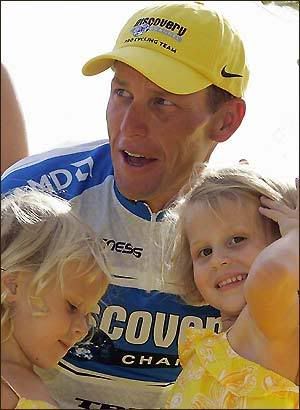 File under C for cradle robbing, Page Six reports that everyone's formerly favorite biker boy Lance Armstrong was spotted at the Rose Bar at the Gramercy Park Hotel making out big time with the diminutive Ashley Olsen. I'm at a loss for words on this one- and that rarely happens.
There's so much ick factor that I don't quite know where to begin. It isn't the age thing actually, though it is amusing that as the only in his 30s Lance is considered ancient in his sport he begins exhibiting signs of dirty old man-ism by trading in the 40ish Tory Burch and 40more Sheryl Crowe for one half of an eerily well paid cruel joke of nature, it's more just the game of celebrity date swap.
We
know that they're vacuous, overpaid and for the most part interchangeable- we didn't realize though that
they
knew it as well.
(And yes, someday I will in fact pontificate in great depth about that *it* factor that women like Sheryl Crowe and Pattie Boyd may or may not possess, I think it's more a case of wanting to have what your other famous compadres have.)
Ain't Love Grand?